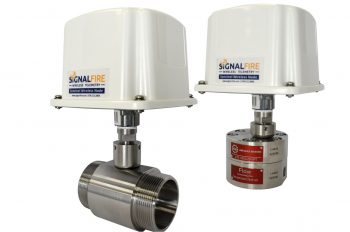 Oak Creek, Wisconsin- May 31, 2017- AW-LAKE COMPANY in collaboration with SignalFire Wireless Telemetry introduces an Intrinsically Safe Wireless Flow Transmitter that wirelessly forwards flow data anywhere in the world with an Internet connection.
Integrating AW-Lake's TRG turbine or JV-CG or JV-KG positive displacement flow meter with a SignalFire Sentinel radio node, this innovative new wireless flow meter works in a mesh network to send data via Modbus to a Gateway where it is transferred to a PC, PLC or other control system.   The wireless radio nodes install themselves automatically in the network and adapt to changes such as data volume, radio transmission conditions and power source conditions.  ISM bands sustain radio signal strength through terrain, structures, or weather for a range of up to a ½ mile.
Ideal for applications with a limited power source or not power at all, the SFS-WP Intrinsically Safe Wireless Flow Transmitter incorporates an internal high capacity lithium battery that powers the passive inductive flow sensor and radio node for years, even in low temperatures.  The flow transmitter can be configured for check-in intervals between five seconds to one hour to save battery life.  Flow rate and total data configurations are available.
Eliminating the need for expensive cabling, the Wireless Flow Transmitter installs anywhere in minutes with an easy thread-installation.   Units cost less than running 60 feet of conduit. Featuring an intrinsically safe design, units operate in hazardous areas where hostile or volatile materials and liquids exist.
For more information on the SFS-WP Intrinsically Safe Wireless Flow Transmitter, refer to the website or contact Marcia Reiff, Marketing Manager, at 800-850-6110, e-mail mreiff@aw-lake.com.
About AW-Lake Company
AW-Lake Company, a TASI Group company, is a leading North American design, manufacturing and service company of flow measurement technology for the fluid control needs of various industries, including oil & gas, chemical processing, paints & coatings, hydraulics & pneumatics, food processing, and fluid power. Together with its European sister companies, KEM-Kueppers, Vogtlin Instruments, and LitreMeter, AW-Lake services and distributes a broad portfolio of flow measurement instrumentation throughout North America, South America, Europe, and Asia. For information, please contact Marcia Reiff, Marketing Manager, at 800-850-6110, e-mail mreiff@aw-lake.com, or visit AW-Lake's Web site at www.aw-lake.com.
About SignalFire Wireless Telemetry
SignalFire Wireless Telemetry designs and manufactures wireless telemetry products that enable robust, long-distance wireless communication connecting multiple devices in challenging outdoor environments.  In 2015, the company became a part of the TASI Group and the TASI Flow Division.  SignalFire joins the TASI Flow family, a global leader in flow instrumentation, with brands including TRICOR Coriolis, AW Gear Meters, KEM Küppers, LitreMeter, and Vögtlin Thermal Mass Flow Meters and Controllers.   For more information about SignalFire, visit http://www.signal-fire.com/.
About the TASI Group
The TASI Group of Companies is comprised of three technologically advanced product platforms commonly linked by a disciplined focus on Test, Measurement, and Assembly. Each TASI company delivers products and services to today's world manufacturing environments, focusing on Automotive, Medical Devices, Oil and Gas, Plastic Containers, Consumer and General Industrial markets. For more information about the TASI Group, visit their Web site at www.tasigroup.com.