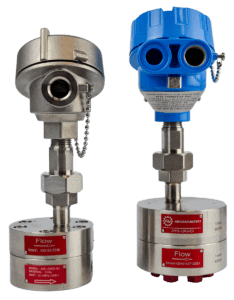 Oak Creek, Wisconsin – May 20, 2019 – AW-Lake Company now offers its HUB-40EX Hazardous Area Rated Flow Sensor with a choice of either sinking or sourcing digital output and a choice of 316 stainless steel or aluminum junction box; or for areas with limited space, a version with no junction box at all.  Compatible with any stainless steel AW-Lake flow meter, the explosion-proof frequency output sensor is ideal for use in any industry or flow measurement application requiring an explosion-proof sensor such as chemical injection, hydraulic fracturing or industrial paint.
Added for equipment with active inputs, the sinking digital I/O provides a ground connection to the load while the sourcing digital I/O version provides an active voltage source for PLCs designed for source output.
The NEMA 4x junction box of the HUB-40EX Hazardous Area Rated Flow Sensor is available in either standard painted aluminum or 316 stainless steel for added protection against corrosion.  For a more compact configuration, the sensor is available without a junction box and just wire with flying leads that allows a user to wire their conduit directly to the sensor.
When working with an AW-Lake flow meter or other PD or turbine meter, the HUB-40EX detects the rotation of a meter's gears and emits a frequency signal proportion to flow.  The square wave output signal has a duty cycle of approximately 50% and is protected with a self-resetting fuse.  An integral swivel union enables a 360° rotation of the junction box for easy wiring. Units are available in a variety of hazardous area certifications including CSA (US & Canada) or ATEX/IECEx for use in Class 1, Division 1 locations.
For More Information
Or contact Marcia Reiff, Director of Marketing Communications, at 800-850-6110, e-mail mreiff@aw-lake.com.