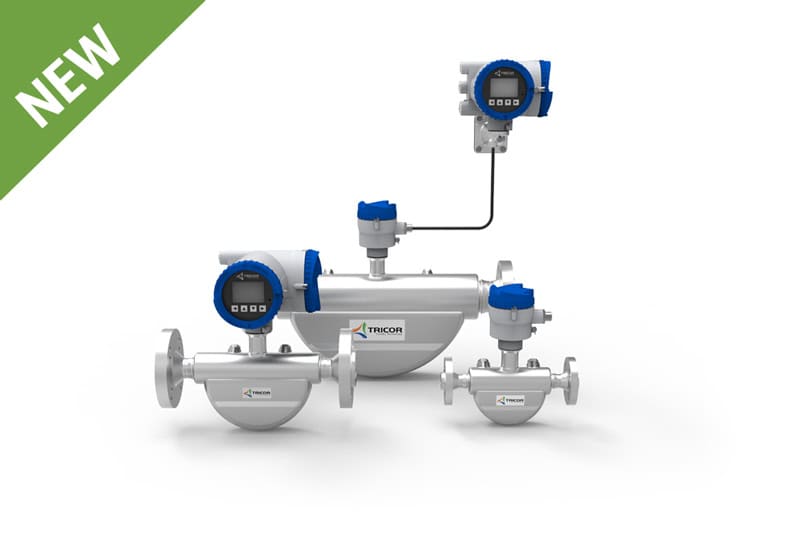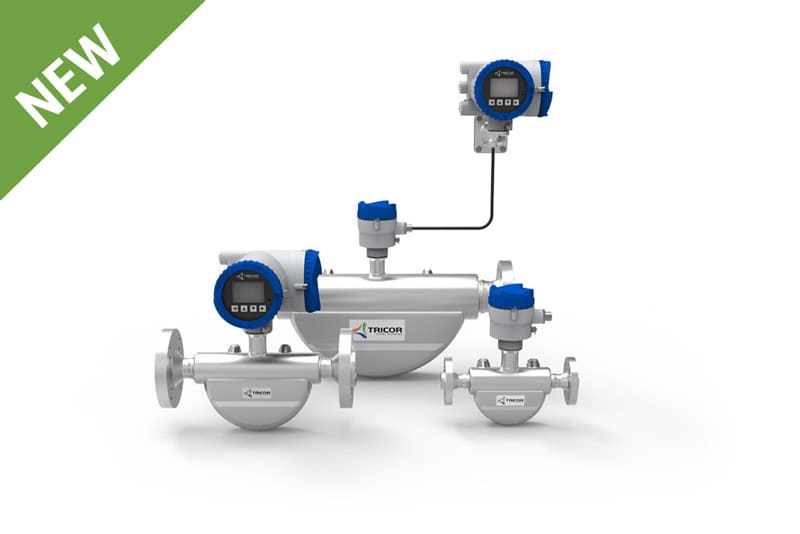 AW-Lake and KEM Extend the Tricor Coriolis Product Portfolio with the New pro plus series
Karlsfeld (Germany) and Oak Creek, Wisconsin (USA) – 07. August 2019.
AW-LAKE COMPANY  and sister company KEM Küppers Elektromechanik GmbH (KEM) announce the expansion of their TRICOR Coriolis Portfolio. The new TCMQ mass flow meters of the PRO Plus Series with sophisticated DSP technology offer high performance with an extremely short installation length.
Based on a strong tradition of innovative developments, the TRICOR Coriolis family has been extended by a further member. The new TRICOR PRO Plus Series with a modern sensor design complements the already well-known Coriolis Mass Flow Meters lines, TRICOR CLASSIC and TRICOR PRO. Its mechanical design combined with sophisticated DSP technology is specifically designed for applications where the need for minimum installation dimensions is a decisive factor.
High zero-point stability even under changing operating conditions and fully welded design for use in challenging applications make the PRO Plus Series the ideal flow meters when it comes to reliability, measurement accuracy, long-term stability and high reproducibility, criteria that are particularly in demand in the process industry.
The high natural frequency of the sensor is well above the resonance range of conventional system vibrations. Thus, the sensor is ideally suited for use in systems with high vibration levels and extraneous signals. Thanks to digital signal processing at the highest level, the PRO Plus series offers an unrivaled performance spectrum.
Features
High dosing accuracy
Fast response time: short measuring cycles
Fast updating for current and frequency outputs, switching inputs/outputs (100 Hz/10 ms)
High natural frequency: immunity to process noise
Noise damping mode
Empty pipe detection
Entrained gas mode
Typical Applications
Batch control
Flow monitoring of fast control circuits
Dynamic processes
Flow monitoring on high-pulsating pumps (eg. piston pumps, diaphragm pumps)
Pulsating flows, changing pump speeds, high pressure fluctuation
Pump protection
Liquid applications with gas content
The mass flow meters of the PRO Plus Series are available in three flow meter sizes: DN15 [½"], DN25 [1″] DN50 [2″]. You can choose between a simple Modbus transmitter and a remote or local digital transmitter.
Digital Signal Processing (DSP) is the basis for all transmitter variants. (HCF) HART 7.5 Communication is available immediately. For the special requirements in the process industry, in particular the chemical industry, Profibus PA, Profibus DP will be available autumn 2019.
The sensor is designed to meet the NE132 requirement. A version in Hastelloy C22 will follow soon. Approvals for explosion protection (ATEX/IECEx/CSA) are already in preparation. With their completion, the range of applications is extensive:
Chemical: TDI, MDI, solvents, blending, plasticizers, base chemicals (sulfuric acid, ammonia),
hydrocarbon based fluids, specialty chemicals, pesticides, dosing applications, loading /
unloading / custody transfer
Automotive: fuels, lubricants, test benches, refrigerants
Oil & Gas: refining (blending), test separators, pump monitoring, refining (blending), loading /
unloading / custody transfer, MEG, TEG, additives
Water/Wastewater: dosage, water conditioning
Plastics: plasticizer
For More Information and Downloads